He drank her in, as if dying of thirst, but not touching her with anything more than his heated gaze.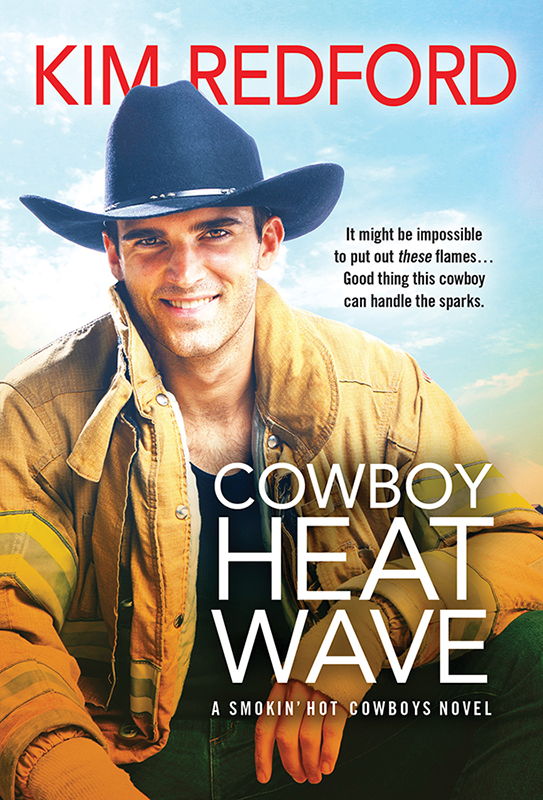 She held out her hand.
He clasped it.
And they caught fire.
Audrey Oakes is in Wildcat Bluff County on a mission. She has a lead on the legendary Hallelujah Ranch bootlegger gold—money that would cover the cost of her grandmother's life-saving medical treatment—but she hadn't counted on following it straight into a group of wild horse rustlers. Audrey has no choice but to speed to the closest refuge and hide, only to be confronted by a gun-toting, hot-blooded cowboy.
It might only be a coincidence that Audrey appears on firefighter Cole Murphy's doorstep just as the rustlers race by his ranch. But Cole isn't about to let anything, or anyone, distract him from catching the wild mustang thieves—no matter how red-hot his connection to her is. And if she is part of the rustler ring, all the more reason to keep a very close eye on her.
This cowboy romance is perfect for readers looking for:
A cowboy firefighter who isn't afraid of a little heat.
A feisty woman who knows what she wants.
A sassy small town that feels like home.
Opposites-attract romance that can't be denied.
— Excerpt —
At GTT Ranch in Wildcat Bluff County, Texas…
After Audrey Oakes toweled dry and put on her pajamas, she tossed all the throw pillows to one side, pulled back the covers, and snuggled into the big bed, curtesy of Cole Murphy on GTT Ranch. She lay there a moment, enjoying the pleasure of relax­ing after a strenuous day. She yawned as she reached over to turn off the lamp on the nightstand. Everybody's day probably started early in the country, so she should get her sleep in early. She noticed great-grandmother's journal, with its faded lavender cover and fascinating contents.
"Good night, Lady Mauve. Please help me find the bootlegger gold so we can save your daughter's life."
She switched off the light. Quiet. She hadn't realized how quiet it would be in the countryside compared to the constant back­ground noise of the city. Coyotes howled in the distance. An owl hooted in a nearby tree. A dog barked. Maybe not so quiet after all.
And then a new sound invaded her room. She sat up, startled, and looked toward her cell phone. It chirped again. But that was wrong. No one would be calling her now, not here. Unless… Oh no, Mimi. Surely her grandmother's health hadn't taken a turn for the worse.
She threw back her covers, snapped on the light, leaped out of bed, and grabbed the phone, jerking it off the cord. "Yes. I'm here. What is it?"
"Audrey?" a deep male voice with a Texas accent said.
She blinked, felt her brain scramble to connect the dots, and came up with Cole. Not Mom. Mimi okay.
"Audrey, did I wake you?"
"Yes. I mean, no. I'd just gotten into bed."
"Bed?"
"Yes." That simple piece of furniture suddenly took on a great deal more meaning with just the way he said it. She walked back, plumped up the pillows, and slipped under the covers.
"You had a bath?" he asked in a voice gone all growly.
"Shower. Wonderful soap, towels, everything."
"Did the room get steamy from the heat?"
"A little bit."
"Did you bring a robe? I don't think Mom left one."
"That's okay. I brought pj's."
"You're wearing those now?"
"Uh…" She glanced down at the purple silky fabric that caressed her curves, or at least maybe that's the way he would have described it. For her, they were just a comfortable necessity. She glanced toward the closet. Was she going to start seeing her clothes through his eyes? No. Absolutely not
"Did you take them off?"
"No. They're purple."
"Like your eyes?"
"Darker." What was he getting at? Why were they having this conversation? And why did she feel titillated by it?
"Silky?"
"Yes." And then she knew she was in trouble. "Are you in bed, too?"
"Right."
"Pj's?" she asked.
"No. I can't sleep in anything."
She felt her breath catch in her throat. He was naked. He was naked in bed. He was naked in bed with her on the phone.
"Too hot."
"Hot?
"Yes. You know how it is."
She didn't before, but she did now. She threw off the covers to try and cool down. "Cooler now?"
"Should be, but I'm not."
"Turn up the AC?"
"I wish it'd help." He gave a low chuckle, as if amused by himself.
She felt that sound vibrate up and down her spine, twine in and around her body, create enough heat to set off a fire alarm.
"Guess you're wondering why I called."
Startled, she sat up in bed. "Are the rustlers back? Did they get into the compound? Are the dogs okay?"
He chuckled again. "I don't think they're after the dogs."
"Good."
"And they didn't get into the compound."
"Good."
"I called to check on you."
"Good. I mean thanks. I'm fine," she said.
"Did you find everything you needed for the night?"
"Mac and cheese in the freezer for dinner."
"Comfort food. That sounds like Mom."
"It hit the spot."
"I'm glad," he said.
"I really can't thank you enough for coming to my rescue."
"Guess I can't thank you enough for letting me come to your rescue."
She laughed at his teasing words as she leaned back against her pillows. "I'll pay you back somehow."
"I'll let you."
"Will you?"
"Yes. I just need to think of what I'd like as payback."
"I'm afraid I won't make much of a ranch hand," she said.
"Plenty of cowboys for that job."
"Maybe I could take you to dinner or something like that? I mean, besides the rent for the guesthouse," she said.
"I'll take something."
"What?"
"We'll decide on something later." He chuckled in that low-throated way again. "Right now, you probably need to get some sleep."
"You, too."
"Not sure how much sleep I'll get tonight."
"Really?"
"I'm thinking the color lavender just might keep me awake. For now…good night." And he was gone.
Lavender? Did he mean like her eyes or her pajamas or Lady Mauve's journal? One thing for sure, she didn't feel so alone…or sleepy…anymore.