She's back and hotter than ever.
Good thing this firefighting cowboy can handle the sparks.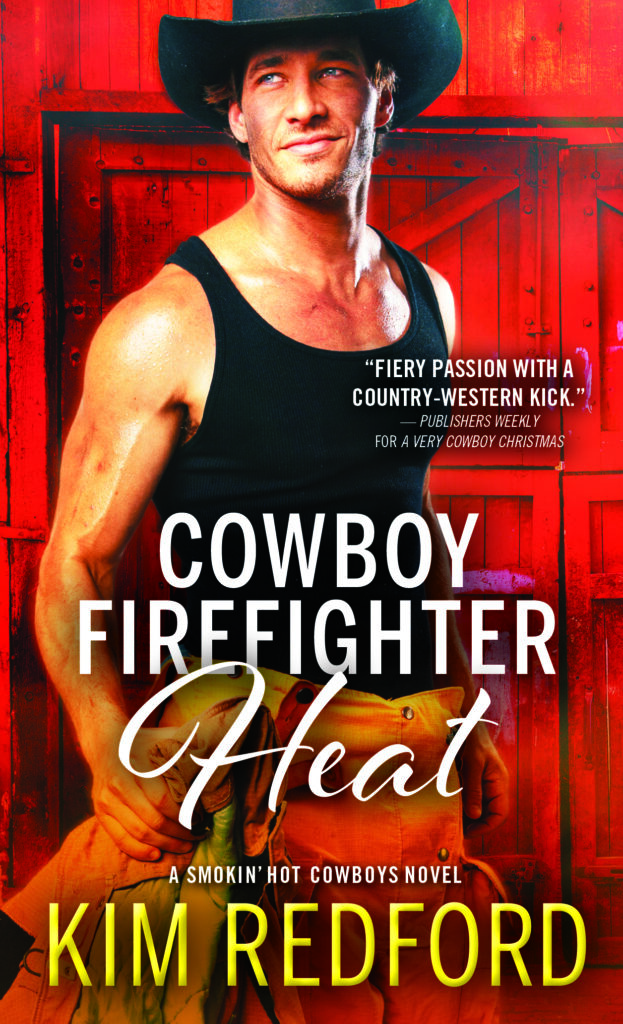 When country singer Fern Bryant returns to her cabin in Wildcat Hall Park, the last thing she expects to find is Craig Thorne in her home…asleep in her bed. The only bed. Once upon a time, Fern had big dreams, and chasing those dreams required sacrifices…and purchasing a battery-operated boyfriend as a substitute for Craig, the cowboy singer and firefighter she left behind.
But now it turns out, Fern and Craig are the co-owners of her beloved Wildcat Hall Park.
Craig hasn't seen Fern since she left Wildcat Bluff County—and him—to sing on a cruise ship. When she storms back into town, the sparks between the two aren't only rekindled but burn hotter than ever. Long days turn into long nights, and Craig is determined to make the most out of this second chance with Fern, and show her she belongs in Wildcat Bluff…and his arms.
What people are saying about Kim Redford's Smokin' Hot Cowboys:
"Delivers fiery passion with a country-western kick."—Publishers Weekly for A Very Cowboy Christmas
"Redford reels you in with this hot-as-hell firefighting cowboy whose rekindled love ignites flames of passion. A sweet, romantic, and enjoyable read."—Fresh Fiction for Blazing Hot Cowboy

Chapter 1
Fern Bryant adjusted the straps of her big black battered guitar case on her shoulders until it hung comfort­ably down her back. She grabbed the handle of her carry­all and lifted it out of the rental car she'd picked up at the Dallas/Fort Worth airport.
She was back in pickup country—Wildcat Bluff County—along about midnight. She caught the sweet scent of roses in the air and saw a sliver of silver moon in the dark sky. It was a night obviously made for lovers. In her mind, she suddenly saw a tall cowboy stepping down from the cab of his truck. She could almost hear the click of his boot heels as he walked toward her, wanting what only she could give him. She quickly snapped the car door shut, dismissing the thought of that particular singing cowboy firefighter.
Tranquility reigned in Wildcat Hall Park, the famous North Texas historic dance hall and cowboy cabins, but not inside her. As co-owner of the Park with her sister, Ivy, she was glad to see it looked much like she'd left it months ago.
She glanced around as she walked toward her cabin. Solar night-activated lights lined the path, while carriage lamps on poles under live oaks softly illuminated the area. Four rental cabins and a larger one had been built and decorated with recy­cled materials from deconstructed old houses and barns, as well as items from junk stores and reclaimed materials. The cabins had rusty corrugated tin for roofs, weathered barn wood for siding, and natural stone for entry stairs leading up to porches. All the windows and doors were repurposed, so they were different shapes, sizes, and colors.
Ivy had recently moved out of the big cabin to be with her fiancé, Slade, on Steele Trap Ranch II. That meant Fern could move right back into the place she'd lived before sign­ing a contract to entertain on cruise ships. Gig complete, she was home, but she hadn't alerted anybody ahead of time. She wanted at least one night to unpack and unwind before…well, before she had to face the music of running out on her obligations and dumping the Park in her sister's lap, although that had turned out well in the end when true love came calling.
Home sweet home. The big cabin squatted on redbrick posts with a covered porch and crawl space underneath. A motion-sensor light came on over the crimson front door as she started up the stairs. The light was new. Ivy must have had it installed for security, which wasn't a bad idea. She felt a smile tug at the corners of her mouth when she saw two wooden rockers—one painted yellow and the other green. She'd spent many a happy hour in those chairs while she strummed her guitar.
Oddly enough, firefighter gear, as in a yellow reflective vest, insulated gloves, and a black-and-yellow fire helmet, had been left in the seat of the green rocker. Had there been fire inside or outside the cabin? She glanced around, but she didn't smell smoke or see char damage. Maybe one of the volunteer cowboy firefighters of Wildcat Bluff Fire-Rescue had been there to inspect the buildings, but she couldn't imagine why any of them would leave behind equipment. Still, there was no way to know, so she'd just leave the gear alone in case somebody returned for it. In the morning, she'd check with the fire department and solve the mystery.
She set down her carryall, fished around in her purse, and came up with her house key dangling on a Wildcat Hall promotional steel ring. She cocked her head to one side as she listened to the Park. She was all about sound because she never knew when some little click or clack or bird trill might inspire her.
She heard rustles in the grass and wondered if one of the polydactyl cats that lived in the Park was hunting in the dark, but it could just as easily have been a raccoon, armadillo, or possum out foraging for food. She'd missed the cats, so she looked forward to seeing them now that she was back.
She took a deep breath as she slipped her key into the lock, then turned the knob, pushed open the door, and stepped inside. A night-light over the range cast soft glow over the warm patina of old wood from floor to wall to ceiling. Lemon yellow and sage green were the dominant colors used to brighten the open-floor-plan living room, dining room, and kitchen. A touch of cowboy chic had been added here and there, like the longhorns with center-wrapped leather attached to the ceiling fan and vintage throw pillows in roping and riding cowboy designs accenting the leather sofa and armchair. A lamp in the shape of a cow with a green shade looked whim­sical on a small table. A closed door led into a bedroom with a bath.
She walked over to the lamp, switched on the light, glanced around the room, and saw another oddity. A green mug had been left out on the yellow ceramic tile of the kitchen counter. The slight scent of coffee hung in the air. Maybe the place hadn't had a proper cleaning since Ivy moved out. She'd just wash, dry, and put up the mug after she'd had a chance to catch her breath.
She shrugged the guitar case off her back and set it in the seat of the chair. Her fingers itched to pluck a few strings, but it'd have to wait until tomorrow. She suddenly felt over­whelmingly tired. She'd dreamed of the Park, dreamed of relaxing into the comfort of familiarity. She'd loved being on the road, going places, seeing unusual things, meeting new people. Yet at this moment, she wanted nothing more than to get out of her clothes and get in bed in her own home. Even if the mattress was saggy and lumpy, needing replace­ment, it'd still feel good.
She set her carryall on a sofa cushion, zipped it open, and pulled out an oversize crimson T-shirt emblazoned with an image of Wildcat Hall—almost as good as a teddy bear for comfort. She shucked off her sneakers, jeans, top, and under­wear. She raised her arms straight over her head and gave her back a good stretch. She slipped on the T-shirt that fell to midthigh. For once, she didn't care about face, teeth, or any­thing resembling her usual nightly routine. She just wanted to be in her very own bed.
She turned off the lamp, found her way to the bedroom door by the light above the range like she used to do, and eased open the door. In such a small room, she knew just where the bed was, so she didn't need to bother with the lamp on the nightstand. She took a few steps forward, but she bumped into the mattress quicker than expected. That was odd. Maybe she was overly tired or she'd just forgot­ten the exact location in the months she'd been away. She started to toss back the comforter, but she touched sheets instead. It was odd to find an unmade bed. Still, for the moment, she didn't really care.
Yawning, she lay down, slipped under the covers, and breathed a sigh of relief. And then she realized the mattress didn't feel the same. No lumps. Had Ivy replaced it? That'd be wonderful. She snuggled a little deeper. And she realized something else. Heat. The bed was way too warm. In fact, if she wasn't mistaken, and surely she was, there was a…
"About time you came home," a man said in a deep, melodic tone from the far side of the bed.
She screamed in shock, even as she recognized the unforgettable voice she'd tried so hard to forget. She leaped out of bed and switched on the nightstand lamp. "Craig Thorne! What are you doing in my bed?"
"I could ask the same of you." He sat up, the covers slowly, suggestively sliding down to his lap to reveal the chiseled planes of his bronzed, muscular chest. A slight smile tugged at the corners of his full lips, and his hazel eyes gleamed more jade than amber.
Now she understood why she'd found firefighter gear and a dirty mug. He was a cowboy firefighter…and he drank coffee. But what was he doing here? She sucked in her breath, ready to put him in his place, but instead she inhaled the scent of citrus and sage as it swirled outward from the heat of his body. That sight and scent sent her spiraling back in time to a hot and hungry place.
She traced him with her gaze but wished she could use her hands. She'd run her fingers through his thick chestnut hair, with just a touch of wave, that brushed his ridiculously broad shoulders. When she started to follow the dark line of hair down his bronze chest, she snapped her gaze back to his face. And those too-knowing eyes had turned dark as they roamed her in return.
"How are you?" he said in a raspy voice.
"Fine. And you?"
"Better now."
She couldn't help but smile. He always knew exactly what to say, whether it was on stage or off.
"Are you here to stay?" he asked.
"I finished the gigs."
"Good ones?" He cocked his head to one side as if con­templating how it'd been for her.
"What's not to like about cruise ships?"
"Bet we've got better gigs at Wildcat Hall," he said.
"Yeah." She needed to get control of the situation, but she was so distracted by the hot cowboy in her bed that she wasn't thinking straight. Still, it was Craig, and she couldn't go there again. He'd try to corral her, like he'd attempted to do before she'd left for her dream job when he'd wanted her to stay. He'd offered marriage and babies, but there was plenty of time for a family later. She'd always wanted a gig on the high seas, and it'd been a once in a lifetime job. He hadn't understood. He'd made it an ultimatum—him or work. She wouldn't be fenced in, not when her sister could step in and run the Park for her. Besides, she'd always been a rolling stone.
"When are you leaving again?"
"I'm not."
He shook his head, scolding her with his gaze.
"I'm back. And I'm taking control of Wildcat Hall."
"Control, huh?" He gave her a little smile and cocked his head to one side as he contemplated her.
"Ivy is ready to get on with her life. Me, too." She didn't much like his smile. It looked cagey.
"Slade's a lucky guy."
"I'm happy for them." She needed to get their conversa­tion back on track, so she could get him out of her bedroom. "Look, you're popular at the Hall. I still want you to play. It's just…there is no us anymore."
"You made that pretty clear when you left."
She nodded, feeling relieved he was agreeing with her. "I don't want to be rude, but I'd be more comfortable if you went home. I'm not even sure why you're here in the first place."
He leaned toward her, still with that smile on his face.
She froze in place, getting an uneasy feeling that life wasn't going to be quite as simple as she'd imagined when she was on the high seas.
"This is my home now."
"Ivy rented the cabin to you?"
"Not quite."
"What do you mean?" She shivered, suddenly chilled to the bone. She clasped her arms around her middle for warmth and comfort.
"I'm willing to share the bed with you. After all, it's only right."
She was more confused by the moment. "I appreciate the offer, but—"
"Fifty-one percent."
She felt color drain from her face. "You don't mean… Surely, you can't mean… my sister wouldn't do that to me."
"Ivy never had the same interest in the honky-tonk as you. Or me. It's lifeblood to us. And she has a new life with Slade on his ranch."
"Are you telling me straight out that Ivy sold you her per­centage of the Park?"
"Yes."
"But she didn't discuss it with me or anything first." Fern felt incredibly betrayed by her sister.
"Guess it wasn't in the contract."
She shook her head, feeling a ringing in her ears that tried to blot out what she was hearing from him. "I suppose it's a done deal."
"Official and everything." He stopped, looking con­cerned about her. "It's okay. We worked fine together in the past. We can do it again."
"Forty-nine percent." She tried to wrap her mind around that agonizing fact. "You're in charge."
"We're partners."
She glanced around, suddenly seeing the bedroom in a different light. Masculine touches everywhere. "You live here now?"
"It's easier to oversee the Park on-site, instead of from my ranch."
"But—"
"Besides, we didn't expect you back. It made sense for me to take over something I love just as much as you love it."
"I always planned to come back. It was just…you, me, the gig of a lifetime. And I needed space."
"Space isn't what you needed." He slid toward her, arm muscles bulging as he reached out to her. "You needed us."
"I told you." She stepped back, putting more distance between them. "I'm loved on stage. Off stage, not so much."
"You got burned a few times. It happens to us all."
"It's more than that, and you know it. I give so much heart in my performances that I don't have enough left over to share…not the way you want to share life."
He placed a hand over his heart. "Mine is big enough for two."
She glanced away from the allure of him, shaking her head.
"Fern, just let me love you."