"Cowboy Christmas reading at its very best." — Carolyn Brown, New York Times bestselling author
FUN NOTE: this novel includes Carolyn Brown's Book Chili recipe from, The Red-Hot Chili Cook-Off.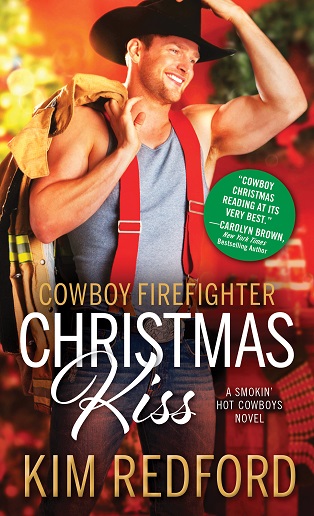 With a touch of sass and a kiss of fire, this sexy cowboy firefighting romance will leave you hot for the holidays!
The firefighting cowboys of Wildcat Bluff take Christmas VERY seriously…
When Ivy Bryant arrives in town to run the historic honky-tonk, she finds herself immersed in traditions that can't be bucked. Luckily, cowboy firefighter Slade Steele has an idea to increase both the honky-tonk's income, and his own. It's an offer Ivy couldn't refuse, even if the passion between them wasn't already reaching the boiling point.
Ivy and Slade's love story is legendary—when you add in arsonist cattle rustlers, a runaway Angus bull, and a chili recipe that includes liquor AND chocolate, Wildcat Bluff will be celebrating a cowboy Christmas unlike any other.
Praise for Cowboy Firefighter Christmas Kiss
"Ms. Redford once again gets the recipe for a fun read just right. …
I loved the interaction of the characters, the togetherness of the town and the Christmas spirit. I loved this book!" — Harlequin Junkie

— EXCERPT —
Chapter 1
"There's never a dull moment in life, not with sister Fern stirring it up," Ivy Bryant said to the silent walls of one of the oldest dance halls in Texas. She did a little twirl on the scuffed, slat-wood floor as if she had a dance partner. Wildcat Hall might not be as famous as Gruene Hall in the Hill Country, but her honky-tonk had a sterling reputation in Wildcat Bluff County.
"And Fern promised she'd stay put this time." Ivy thrust out her arms to both sides and twirled harder in the center of the large room that had rows of long, narrow, handmade wooden tables with matching benches placed on each side of the dance floor. "Famous last words of a rolling stone. Do I really believe her, or do I just want to believe her?"
She stopped, let her arms fall to her sides, and looked with a kind of wonder toward a recessed, raised stage and hand-painted backdrop. "In Houston, I'd be designing websites by day and enjoying my friends at night. Here, I'm still designing websites by day but running a honky-tonk at night."
She chuckled, still feeling surprised at the turn her life had taken. She was here to manage Wildcat Hall Park, dance hall and cowboy cabins, but she hardly believed it, because what did she know about running the place? It was now all hers—or at least the 51 percent her sister didn't own, but Fern was away on a gig for who knew how long, putting the ball in Ivy's court while she was gone.
She put her fists on her hips as she glanced from the stage to the other end of the dance floor at the long bar that served munchies, beer, and wine. Two open windows allowed bar­tenders to service customers on the dance hall side and on the front bar side at the same time. It seemed to her that it was a practical setup, although she was certainly no expert.
She walked into the front bar through an open doorway. For her, this room was the heart and soul of Wildcat Hall, and she relished the cozy, old-fashioned ambience that had nurtured folks for well over a hundred years.
Decor was minimal. Rusty metal beer advertisement signs had been tacked around the walls, along with sepia-toned photographs of cowboys on horseback and country music legends. A framed Lone Star State flag hung in back of the bar while a rack of deer antlers loomed above the double front doors.
Ivy glanced at the tattered cardboard box of Christmas decorations that she'd found in a storeroom. Businesses were already putting up holiday decor, so she didn't want the Hall to be left behind. She pulled out a long string of red tinsel, walked over to the antlers, and tossed the strand upward. It fell back down. She needed a ladder, but she hadn't found one yet. She picked up the tinsel and tossed again. No luck.
As she gazed at the antlers with a skeptical eye, she heard a truck pull up outside. By now, folks should've heard the honky-tonk was closed for a week while she figured out how to manage it. Even if the front door was unlocked, since she'd been running in and out, there was a big sign with bright red letters on the door that read CLOSED. No need for folks even to get out of their pickups.
She looped the tinsel around her neck, picked up a straight-back chair from under a table, and set the chair under the antlers. Now she was getting somewhere. She stood on the seat, adjusting her stance to keep her balance while the chair wobbled on uneven legs. She lifted the strand as high as she could manage, but she still couldn't drape it around the antlers. The Hall's high ceilings made for good airflow, along with an impressive historical statement. Not as big a statement as fancy honky-tonks like Billy Bob's Texas in the Fort Worth stockyards, with 127,000 square feet of boot-scooting space or the famous Longhorn Ballroom in Dallas with 20,000 square feet. But Wildcat Hall was plenty spacious with 4,000 square feet inside and room for more in a large beer garden with picnic tables outside.
She just wished the Hall had the tourist draw of those two famous places, but a major destination attraction and music venue could be built with the right promotion and entertainment. Still, she was getting ahead of herself. For the moment, she just needed to put up a few decorations to add Christmas cheer to the place.
As she stood on her tiptoes with arms raised again, she heard the side door that led to the beer garden open and boots hit the floor with a determined stride.
"We're closed!" she hollered, not bothering to look over her shoulder. "Come back next week."
"You look like you could use a little help."
She froze with her hands in the air as she felt the deep male voice with that melodic, slow cadence of a born-and-bred Texan strike her body and go deep, as if she'd been pierced by a flaming arrow. Talk about red-hot. She tried to shrug off the heat, but the chair shifted under her, making her sway.
"Easy does it," he said. "Chairs have a way of pretending they're bulls sometimes."
"Bulls?" She didn't know whether to laugh at the joke or appreciate he'd tried to make her feel better about almost toppling to the floor. Still and all, if she'd known she was going to have company, she'd have put on something besides formfitting yoga pants and top in hot pink with black trim. He was getting an eyeful.
"In my case, I always tried to pretend bulls were chairs."
"How'd that work out?" She eyed the antlers, mind half on her next throw and half on the amusing man behind her.
"About like you can imagine." He sighed, as if life had been unfair. "I finally had to give up bulls for chairs."
"I bet the bulls were grateful." She definitely wanted to see the face that went with the voice, but she wanted to finish her task more.
"Yeah…but I've broken a few chairs."
"Maybe even my chair."
"Looks like it's keeping an uneasy peace with the floor."
"That's one way of putting it." She rose to her tiptoes again, trying one last time to get the tinsel to disobey the laws of gravity.
"Let me help." He spanned her waist with large hands and lifted her so she could easily reach the antlers.
She caught her breath in surprise at his strength—and his boldness. But she wasn't looking a gift horse in the mouth. She quickly twined the antlers with red tinsel until they looked festive for the holidays.
"Pretty," he said.
She shivered in response. What had gotten into her? She should be struggling to get away. Instead, he was revving her up with his hot hands.
"Got any more tinsel to put up?" he asked in a deep voice gone husky. "I could hold you all day and into next week."
"I suggest you put me down before you get into trouble."
"If you're the one handing out trouble, I'd wait in line to get it."
She couldn't help but chuckle because he was laying it on thick in that teasing way Texas men would do to get them out of problems with women. "Better put me down before your arms give out."
"Not a chance. You're light as a feather."
She laughed harder. "Guess some women would fall for that one. What are you selling?"
"As a matter of fact, I'm here to help you, but you might consider it selling to you, too." He gently set her down so her feet were steady on the floor, and then he stepped back.
She turned to face him—and felt her breath catch in her throat at the tall hunk of a cowboy.
He wore pressed Wranglers that accentuated his long legs and narrow hips, with a wide leather belt sporting a huge rodeo belt buckle. His blue-and-white-striped, pearl-snap shirt tucked neatly into the waistband of his jeans emphasized the width of his shoulders and breadth of his chest. Blond haired. Blue eyed. Square jawed. Full lipped. He looked as if he'd been made to dazzle—and she was sud­denly and breathtakingly susceptible to every single one of his charms.
"Whatever you're selling, I think I'm buying." She spoke the words with a teasing lilt in her voice and a mischievous smile on her face. Still, she meant it. And he probably knew it because he was definitely heartbreaker material. How many women had already fallen to his charms and been left in the dust? She didn't intend to be a notch on his belt, but if she'd known leaving the city for the country paid off so well in eye candy, she might've followed her sister sooner.
He chuckled at her words and held out his hand with a thick, muscular wrist that came from controlling thousand-pound-plus beasts. "Slade Steele. If you haven't heard of me, maybe you're aware of the Chuckwagon Café and Steele Trap Ranch. Family businesses. Folks do like the pies I bake for the café. I'm not just any guy off the street."
"You're definitely not just any guy." She slipped her hand into his big one and felt him gently enclose her fingers.
"And you're definitely good for my ego," he said with a smile as he let his gaze drop all the way down the length of her and back up to her face. "I thought your sister was lovely and bright and talented, but you leave her in the shade."
"Smart guy to throw a few compliments my way. Guess you're more than a pretty face." She tried to keep the teasing going, so their interaction stayed on a light note, but he was still holding her hand and she wasn't pulling away and his eyes were heating up to a blazing blue fire.
"Nothing but the truth."
"Fern is the star." She tried to tug her hand away, but he held on another long moment, nodding as if deciding something or conveying something or accepting something before finally letting go.
He grinned with a gleam in his eyes, revealing teeth white against the tan of his skin. "Yeah, she is that…but you make the earth move."
"Oh my." She returned his grin while fanning her face with one hand in that old Southern way, as if he was too hot to handle. "You really do want to sell me something, don't you?"
"How am I doing?"
"Not bad." She pivoted and walked away from him, intentionally putting the heat they were generating behind her. She wasn't in Wildcat Bluff for a guy. She was here to salvage her financial investment. She had to keep that fact firmly in mind because she was city, not country, and she was here only as long as it took to take care of business. A good-looking, fast-talking cowboy wasn't anywhere on her agenda, particularly one who might slow down her getaway.
"How is Fern?"
"My sister is always okay." She leaned her elbows on top of the bar and resisted a long sigh because she'd been here before—one too many times. She heard Slade approach, noticing the unevenness of his step for the first time as if he limped from an injury. She wondered how he'd been hurt, thinking how he'd mentioned bulls, but knew it'd be rude to ask. She glanced over at him, deciding to get the explaining over as quickly as possible.
"She left without a word," he said quietly but intently, almost accusingly.
"That's Fern." She turned around and leaned back against the edge of the bar and propped a heel on the long runner. "I suppose she left broken hearts and broken dreams behind her."
"Something like that."
"If it helps, it's not personal. She's a singer, so she's a roll­ing stone." Ivy took a closer look at him, feeling a sudden tightness in her chest. "I hope you aren't one of the—"
"Not me. But there is a guy. Craig Thorne. Singing cowboy. They performed together on the Hall's stage. He thought they had something special."
"Guys always do, bless their hearts." She glanced over as Slade leaned his elbows on the bar. "She must've liked this Craig more than a little if she picked up and ran that hard that fast."
"I doubt he'd agree, but she did leave things in a muddle."
"That's where I come in." Ivy turned toward him. "My parents named us well. I'm the ivy that holds everything together, while she's the fern that spreads up and out."
He nodded, glanced around at the room, then back. "So, what do you plan to do here?"
"I'm considering my options."
"Folks are wondering about Fern…about the sister who showed up to take her place…and about Wildcat Hall."
"Fern ought to be back at some point."
"Will she?"
"That's the plan, but you never know about the timing. Right now, she's entertaining on a cruise ship."
"We all thought she was dedicated to preserving and expanding Wildcat Hall."
"Y'all aren't the only ones. It's always been her dream to own a venue where she could nurture country musicians."
"Heard that. Plus, Bill and Ida Murphy hooked up with her on a genealogy website and discovered they were long-lost cousins. The Hall always belonged to somebody in their family. Otherwise, they'd never have sold to an out­sider. Lots of folks in our county would've stepped up for Wildcat Hall to preserve it because it's been the center of community life here from the get-go."
"Guess y'all were surprised when strangers took over. I helped finance her dream, but I'd intended to be a silent partner. Now—"
"I got it. But if you're anything like your sister—"
"Not so much."
He nodded again, considering her with watchful, blue eyes.
"I'd appreciate it if you'd let folks know I'm here to take care of Wildcat Hall."
"Will do." He cleared his throat. "I came over because… well, it'd be good to generate more interest in the Hall."
"I agree." She smiled, cocking her head to let him know she was listening even as she decided he took up way too much physical space and created way too much heat for her to be easy in his presence. She didn't need a too-hot cowboy disturbing her already-disturbed thoughts. She needed to think straight so she could get a handle on what she was going to do with the honky-tonk.
"Good." He rapped the top of the bar with his knuckles, glanced around, and refocused on her. "Place is still good but stale. Christmas is coming up. It'll take more than a few prayers to put Wildcat Hall on the map again."
"Maybe a sound marketing strategy?"
"That, too." He smiled with a teasing glint in his blue eyes. "If you'll let me, I'll be glad to help out. I have a few ideas."
She returned his smile, feeling his magnetism tug at her, stoking fires she'd thought long gone. She could see how he'd be the perfect answer to a lonely lady's prayers, but she needed something else from him. "Do tell."